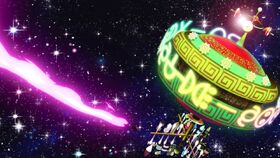 Ra-sta (ラーステ Rāsute) is a Space Ramen Station that houses many ramen shops. Stands gather and open up shop from all over the galaxy here, which also brings aliens from all over the galaxy too. Its the number one place for ramen. Many of the shop names here are references to science fiction and space franchises.
Ramen Shops
Edit
Menya Noodle Galaxy (麺屋ギャラクシー Men'ya Galaxy)
Ramen Nebula (ラーメン星雲 Rāmen Sēun)
Andramenda (アンドロ麺ダ AndoroMENda)
Full Metal Noodlist (鋼の麺術師 Hagane no menjutsushi, Meow called it the abbr. Hagamen)
Ramen in Black (麺・イン・ブラック MEN in black)
Space Saburou (スペース三郎 Supēsu Saburō)
Ad blocker interference detected!
Wikia is a free-to-use site that makes money from advertising. We have a modified experience for viewers using ad blockers

Wikia is not accessible if you've made further modifications. Remove the custom ad blocker rule(s) and the page will load as expected.